Mangrove removal from Kaelepulu Pond has proved to be a formidable and costly challenge. The first section removed had built it's own island off of a storm drain leading from Kahili Street. The low bidder ($15,624, Grow Control) used a crew of 5 to 6 men to remove and chip approximately 10 to 12 tons of mangrove over a period of 5 long days. Mangrove trunks encrusted with oysters needed to be disposed of separately.
A test plot was set up to determine the best way to prevent the re-growth of the seedlings from the cut area. Four treatments were tested over equivalent areas with the following re-growth results in 3 months.
a. Garlon application by brush, 142 seedlings re-grow
b. Lake-safe herbicide by roller, 166 seedlings re-grow
c. Hand- grubbing of all material, 20 seedlings re-grow
d. Control, 562 seedlings re-grow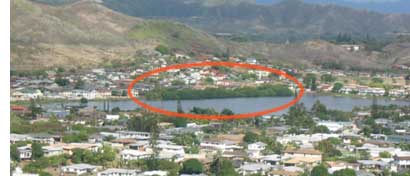 Before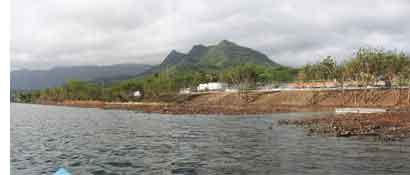 After
The second area of mangrove was on a partially inundated property roughly 100' x 700' (1.6 acre) with some dry land and some wetland. Because of the long water inlet on the site, the actual shoreline supporting mangrove growth was about 2000 feet long. After the dry-land shrubs were removed ($8, 854) an additional $47,000 was required to cut the mangrove and chip it on site. This cost of $22 per linear foot of shoreline is quite low compared to other similar projects. The contractor estimated that his 3-4 man crew cut and chipped at least 20 tons of material on the site. Six months after mangrove removal the native milo trees intentionally left standing on the site are rapidly growing and filling in the canopy.
Resources:
Hamakua Mangrove Removal Paper